Bonuses & Special Benefits
Extra Driver Fees in Hawaii are frequently waived!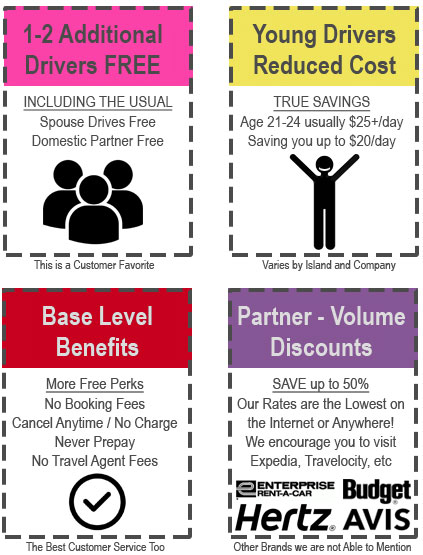 Unlock Exclusive Benefits with AlohaRents.com
Embark on a Hawaiian journey with added perks and benefits. At AlohaRents.com, we believe in offering more than just a car rental service. Dive into the details below and discover the Aloha difference.
Drive Together: No Extra Driver Fees
Traveling with a partner? We've got good news! Your spouse or domestic partner can co-pilot your Hawaiian adventure without any additional costs. Unlike others, we believe in sharing the joy of driving without the burden of extra fees. In fact, many of our partner brands allow up to 1 to 2 additional drivers for free. It's one of the many ways we prioritize your convenience and savings.
Youthful Adventures: Reduced Young Driver Fees
Age is just a number, especially when it comes to exploring Hawaii. While the standard age to rent with us is 21, we've gone the extra mile to ensure younger drivers can hit the road without hefty fees. While some rental companies might charge up to $30 per day for young drivers, our special negotiations mean you could save up to $20 daily. Just keep an eye on availability and location specifics.
Exclusive Savings with Digital Coupons
Whenever you browse our extensive car rental inventory, we seamlessly apply our Exclusive Digital Coupons, ensuring you always get the best deal. It's our way of saying 'Mahalo' for choosing AlohaRents.com.
Ready to experience Hawaii with unbeatable benefits? Book with AlohaRents.com and let the adventure begin!