Bonuses & Special Benefits
Extra Driver Fees in Hawaii are frequently waived!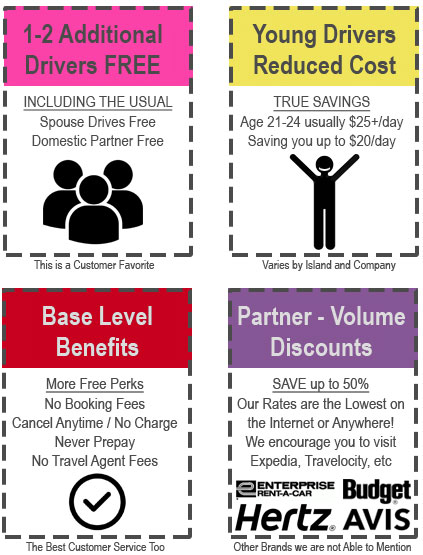 Learn more about adding additional drivers to your rental car in the sections below.
When renting a car through our service, your domestic partner is your spouse. When you rent with us, you will never be charged an extra driver cost. It is standard practice in the industry to enable a spouse or domestic partner to drive for free. Most of our partner brands provide an additional 1 to 2 free drivers. (This is one of our most attractive offerings.)
Fees for young drivers are drastically reduced.
When you pick up, you must be 21 years old or older. Some companies have a higher minimum age requirement, such as 25 years or older. Others impose a daily price of $20-$30 per day with taxes for young drivers. We, on the other hand, have negotiated a reduced young driver cost that might save you up to $20 each day. The only stumbling block would be a lack of supply and/or location.
• As you search our inventory of car rentals on this website, our Exclusive Digital Coupons are applied.